Nobody wants to be surprised by higher premiums — especially in retirement.
With Medicare Part B and Part D, there are strategies that may help you avoid increased monthly payments.
The Issue
Most people receive Medicare Part A (hospital insurance) for free. But monthly premiums apply to every individual with Medicare Part B (medical insurance) and Medicare Part D (prescription drug coverage).
The Centers for Medicare & Medicaid Services sets a standard Medicare Part B premium, which is adjusted annually. For 2023, the standard premium is $164.90 a month.
Monthly premiums for Medicare Part D vary by plan.
Monthly premiums for Part B and Part D are based on gross income level and tax return status (individual or joint) from two years prior. For example, your 2023 premium would be based on your 2021 tax return.
The higher your income, the higher your monthly premium for Part B and Part D. These income-related monthly adjusted amounts (IRMAAs) are reset each year. This means you may pay an IRMAA one year but not the next, or vice versa.
The following table shows the 2023 monthly premiums for Medicare Part B based on income for individual and joint tax returns. The IRMAA is the amount added to the 2023 standard monthly premium of $164.90.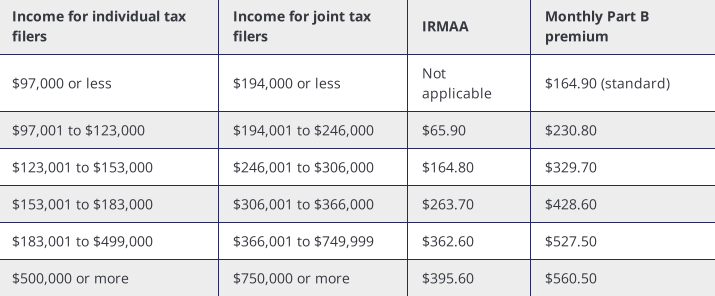 The following table shows the 2023 monthly premiums for Medicare Part D based on income for individual and joint tax returns. The IRMAA is paid in addition to the monthly premium for the Medicare Part D plan you select.

Strategies to reduce or eliminate IRMAA payments
The financial news magazine Barron's recommends paying attention to your potential IRMAA payments once you turn 60. If you enroll in Medicare at age 65, your age-63 tax return will determine your monthly premiums. By planning a few years in advance, you have time to collaborate with a trusted adviser to find strategies for reducing or avoiding IRMAA payments.
Here are some factors to consider.
Taxable distributions
It's not just job-related income that can push you into a higher IRMAA bracket. Taxable distributions from retirement accounts count toward your income in the year they are disbursed.
For example, money taken from an individual retirement account to pay for a vacation or purchase a car will count as income for that year's tax return and could result in IRMAA payments. And selling a house at a taxable gain when you're 63 or 64 could lead to a large increase in IRMAA rates two years later.
It's not always bad to pay the higher rates for a year. Some financial advisors recommend taking extra income for one year to avoid spreading it out and paying higher rates over multiple years. The key is to know what's coming so you can plan financially.
Income reductions
There are also strategies to reduce your income. Common examples include:
Making qualified charitable donations from your individual retirement account.
Selling losing investments to offset capital gains.
Converting individual retirement accounts to tax-free Roth accounts before required minimum
distributions kick in at age 73.
Major life events
In addition, life events can affect your IRMAA status. Life events include:
Marriage, divorce or marital annulment
Death of a spouse
Reduction in work hours
Loss of work, including retirement
Loss of income property for reasons beyond your control
If any of these events would change your IRMAA status, you can ask for a reconsideration. Contact the Social Security Administration at 800-772-1213 or online.
More Information
For more details on Medicare and IRMAA charges, talk with your benefits adviser, Medicare broker or financial adviser. Insights into Medicare and your financial standing may help you avoid unnecessary hikes to Medicare premiums.
Contact Us
Connect with one of our experts to learn more about our new Medicare Solutions.
---
We are not a government agency. We are licensed insurance agents who discuss insurance programs such as Medicare Advantage, Medicare Supplements and Medicare Part D Prescription Drug coverage. Any information we provide is limited to the plans we offer in your area. Please contact Medicare.gov or 1-800-MEDICARE to get information on all of your options.
This content is for informational purposes only and not for the purpose of providing professional, financial, medical or legal advice. You should contact your licensed professional to obtain advice with respect to any particular issue or problem. Please refer to your policy contract for any specific information or questions on applicability of coverage.
Please note coverage can not be bound or a claim reported without written acknowledgment from a OneGroup Representative.
Written content in blog post: Copyright © 2022 Applied Systems, Inc. All rights reserved.