MOTORCYCLE & RV Insurance
Protect Your Expensive Investments
Motorcycle and recreational vehicle insurance from OneGroup protects your expensive investments:
Why buy your motorcycle, snowmobile, ATV, motorhome or travel trailer insurance from OneGroup? We know that recreation vehicles create unique risks. As an independent insurance agency, we can choose from the best insurance companies to protect you from those risks and keep you out there having fun—at the lowest cost! We know you've made a big investment in your recreational vehicles. That's why OneGroup offers customized RV insurance for your motor home, bus conversion, conventional travel trailer, fifth-wheel, truck camper, camper van, ATV, even your specialized trailers. We also provide comprehensive boat insurance.
Motorcycle insurance made easy
The joy of biking is the freedom of the open road. Don't let an accident threaten your freedom! OneGroup understand the passion bikers share. That's why, as an independent insurance agency, we are able to review the coverage and cost from the best insurance companies to protect you and your motorcycle. Motorcycle insurance from OneGroup gives you the peace of mind knowing your motorcycle insurance has you covered no matter what comes your way.
OneGroup's customized motorcycle insurance program ensures that your motorcycle insurance is tailored to the way you ride. We assemble the strongest insurance plan for you that considers bodily injury and property damage liability, medical payments, roadside assistance, and more. Available motorcycle insurance options include:
Bodily injury to someone else or property damage you might cause
Bodily injury to yourself from an accident with an uninsured or underinsured motorist
Damage to your motorcycle caused by an accident
Theft, fire, vandalism or other loss at your home or offsite storage
Customization work
Attached sidecars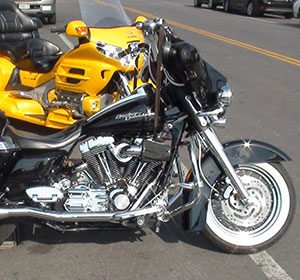 You may be eligible for a discount when you complete a rider safety course.
Trust OneGroup for your motorhome/RV insurance
Your RV insurance policy protects you, your traveling companions, your valuables and your vehicle when you're on the road or out on the water. OneGroup's premier recreational vehicle coverages can include:
Total Loss Replacement
Purchase Price Guarantee
Personal Effects
Emergency Expense Dollars
Full-Timers' Coverage
Custom Equipment Coverage
Awning Replacement Coverage
Vacation Liability
Towing & Roadside Assistance
Disappearing Deductibles
And Many More!
We make it easy for you. That's why so many people turn to OneGroup for their RV insurance. Save time. Save money. Get a quote today!
We make it easy for you. That's why so many people turn to OneGroup for their motorcycle and recreational vehicle insurance. Save time. Save money.
Blog Post
If you have an active and adventurous lifestyle, you need responsive and customizable protection.