A History of Growth
Our history of insuring families and businesses goes back more than 100 years, beginning in Oneida, New York with the Haskell and Bailey families and operating under various names. In 1988, the families combined Hamblin, Munz & Haskell with Bailey Insurance Services to form Bailey & Haskell Associates, Inc. In 2000, Oneida Savings Bank purchased the insurance agency along with two smaller agencies, Noyes & LaLonde and Dunn Agency. The name was changed to Bailey, Haskell & LaLonde (BHL). Oneida Bank added Schenectady Insuring Agency of Schenectady to its portfolio in 2012.
Benefits and Human Resources
Retirement Income Services, Inc. was established in 1983 in Syracuse, New York focusing in the areas of qualified retirement plan consulting and administration, investment advisory services, executive compensation, business continuation, estate planning and life insurance sales. In 1996 the company added significant benefit and HR consulting services to its list of services, changing the company's name to Benefit Consulting Group, Inc. In 2003, the company expanded to offer an array of financial investment advisory services. Oneida Bank purchased the company in 2006.
Workplace Injury Management
Begun in 2008, Workplace Health Solutions was established as a wholly-owned subsidiary of Oneida Savings Bank. The company's focus was to provide solutions to workplace injuries and their associated costs. Services included independent medical examination networks, back-to-work programs and injury risk management.
A New Name for the Combined Companies
Oneida Savings Bank was founded in Oneida, New York in 1866. In 1998, the savings bank began the process of becoming a public company under Oneida Financial Corp. (ONFC), with a focus on strategic acquisitions of the region's most competent and customer-focused companies. The goal was to unify compatible services and expertise to deliver truly integrated and collaborative solutions for businesses and individuals.
To better reflect the rapidly-growing portfolio of services, all of Oneida Financial's non-banking companies were combined under the new name, OneGroup in 2014, becoming one of the largest and fastest-growing independent insurance brokers and risk management companies in the Northeast.
In December 2015, Community Bank, N.A. purchased ONFC including OneGroup, adding to its substantial portfolio of complementary services including wealth management, benefit administration, actuarial and pension services, retirement plan services, and trust services.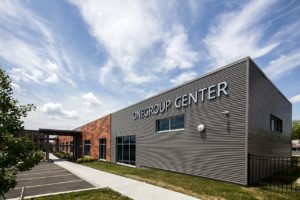 Community Bank operates more than 230 customer facilities across Upstate New York, Northeastern Pennsylvania, Vermont and Western Massachusetts, and has been serving its communities for more than 150 years. With over $13 billion in assets, the DeWitt, New York-headquartered company is among the country's 125 largest financial institutions. Community Bank has consistently been ranked among the top 12 best banks in America by Forbes Magazine since the list was first published in 2009, and was most recently ranked tenth in 2020.