Every Business Needs Property and Casualty Insurance
Commercial property insurance is essential to businesses large and small. Commercial property insurance protects your business from the risk of property loss due to:
Fire
Explosion
Riots or strikes
Lightning, hail or wind
Vandalism
Accidental damage from vehicles
Imagine if your company was destroyed by fire and you lost everything: vehicles, records, furniture, fixtures, computers and files, inventories and the building! How could you stay in business? How would you pay to replace all that you have worked so hard to build? Commercial property insurance gives you the peace of mind that you will be able to continue your business operations and be able to replace everything you've lost. That's why commercial property insurance is usually the first thing you invest in when you start your business and the most important investment a business of any size can make in the business.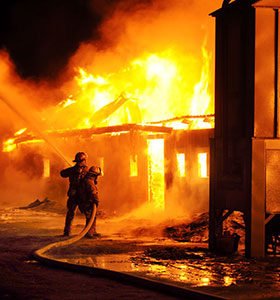 We make it easy with plain language descriptions of every coverage type. Contact us today for a no obligation quote on your commercial insurance. When calling, please have your current policies available. Start saving right away!
Don't own your own building?
Many companies don't own the building in which they operate. However, many landlords required adequate insurance coverage should you be responsible for damages to the facility, and companies that lease equipment to you may also require replacement insurance on their equipment.
OneGroup can help you go over your unique requirements to ensure that you have adequate commercial content insurance to protect you and give you peace of mind. As an independent insurance agency, our business risk specialist, with a thorough review, can recommend what's best for your business. The advantages of working with OneGroup include:
One of the most complete portfolios of business and insurance products to support your business goals
Large staff of experts in multiple business areas
Independent agency that puts your needs first
Straight forward, honest advice
Attentive, proactive service
Innovative solutions that go far beyond your insurance needs
Don't wait until you experience a loss to find out if your property insurance coverage is adequate to protect you. Find out today with a no-cost, no obligation review of your current policies.
We make it easy for you. That's why so many people turn to OneGroup for their property and casualty insurance. Save time. Save money.